For formal or casual looks, flashy or discreet, a good black dress is infallible. Here, the best combinations to adapt it to any occasion.
Elegant and versatile, the black dress is a garment that cannot be missing from your wardrobe. It is a subtle and attractive color that always flatters and refines the figure.
In addition, it is a classic that never goes out of style, and you can reinvent it and transform it with super-diverse accessories. Here, the best accessories for a black dress to create different looks and get the most out of this essential basic.
It may interest you : How to Style Sneakers for Girls Ideas in 2021
Ideal accessories for black dress
If you are thinking about combining a black dress and the most appropriate accessories and colors, the following tips will be key for you to achieve a distinctive and unique style. Remember that, when choosing accessories, the most important thing to remember is that the look must be balanced.
Earrings, rings, bracelets, and necklaces
If you opt for accessories on the ears, wrists, hands, and neck, It is important to avoid overloading the ears, wrists, hands, and neck accessories. If you choose a 925 silver necklace, for example, you can pair it with rings. If, on the other hand, you are planning to wear multiple bracelets, it is best to merely wear simple earrings or a hair detail. They can add up quickly, especially if they are colourful.
Wallets and bags
The possibilities are endless when the time to choose the right bag, the possibilities are endless. Everything can work well to complement your black dress, from simple handbags with basic hues to colorful backpacks with funky shapes or textures.
It all depends on the garment style: if it is informal and combines with sneakers, a backpack or bag looks fantastic. If it is more elegant, better to opt for a portfolio.
Always remember that the larger bags go better with day looks, while the small types of purse or envelopes are more suitable for the night.
Belts
To better show off your figure, refine a wide dress, or accentuate the shape of a fitted dress, strap a belt at the thinnest part of your waist. You can opt for some very colorful, shiny, silver, or simply one that combines with your shoes to make them stand out against the black of your clothes.
Head accessories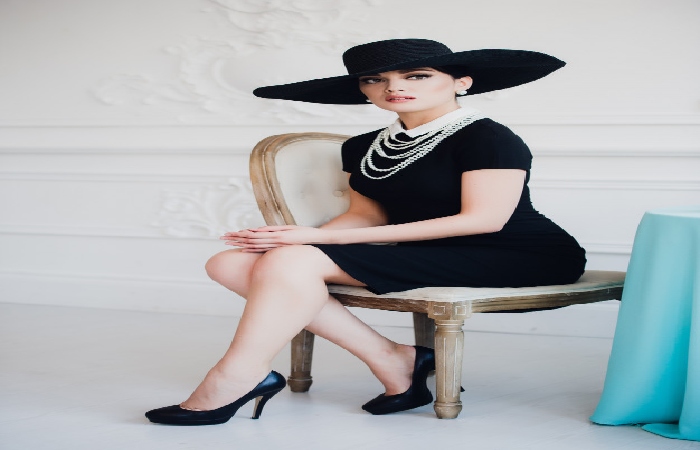 Hair accessories are in fashion and are a handy way to balance the ensemble and decorate the upper part of the head. Bold-hued scarves, hats, brooches, and buckles can complement a chic and chic Total Black super well.
Infallible colors
The silver color stands out very well with the black and is an excellent option to give a sophisticated and elegant touch. Another super exciting color to combine with black is red. Wearing shoes, a bag, a jacket, or just a few details in reddish tones will ensure an energetic and attractive look.
Shoes for black dresses
The most vital advantage of this type of dress is that you will not have to worry too much when choosing a shoe that matches.
For a more sober and elegant look, closed shoes and delicate heels are ideal. Additionally, you are looking for something very informal, and you can opt for some sneakers or some very comfortable panchas.
Boots, sandals, sandals, stilettos, moccasins: all are good allies to wear your black dress at any event or occasion. Again, it all depends on the style of the garment and the event you are attending. The dress code will define the details.
Black dress with red shoes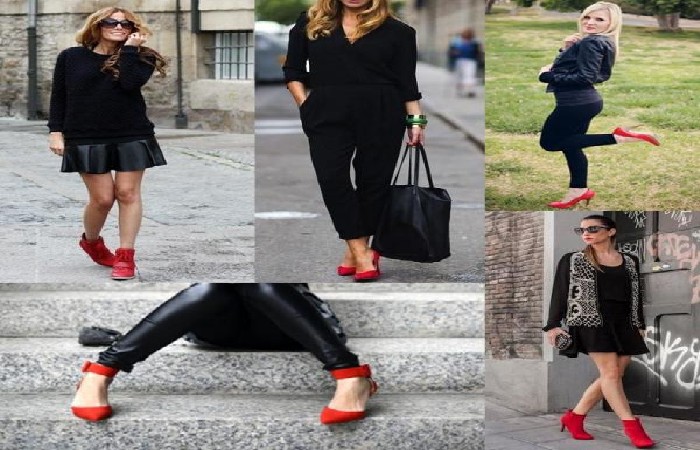 Character and personality in a look that will make people talk: total black with red shoes. If you choose this style for the night, it will be great to add some black accessories. If not, some bracelets or earrings of a tone similar to that of your footwear.
when you want to style it during the day, you can switch to more casual open sandals and add a jacket or jean shirt for a more casual touch.
Some tips to help you choose clothes and accessories according to the opportunity
Informal style
Military-type jackets.
Plain pantyhose, with dots or shapes and in different colors.
Eye-catching accessories.
Jean shirts or colors.
Black leather jacket with matching boots.
Colorful slippers or sandals.
Colored headscarves or headband type.
Large sports-type watches.
Another widely used idea to keep you warm and achieve a relaxed and casual look at the same time is to wear a loose sweater or button-down cardigan over your black dress.
Formal look
Small bags.
Neutral colored coats.
Blazers.
Long boots in the winter.
Flats or flats type shoes.
Fine watches and delicate bracelets in silver or gold colors.
For an elegantly sporty look, you can bundle up with a delicate pashmina or scarf in a neutral shade that covers your shoulders.
Evening look: makeup for black clothes
The correct makeup is very important to achieve that balanced look we talked about before. For the night, if what you want is to highlight the eyes, use an intense eyeliner with blurred shadow and mascara.
The makeup should be neutral and, for the lips, a simple gloss is enough.And also, on the other hand, what you are looking for is to reinforce the color of your mouth, opt for an intense red and leave more neutral and pastel tones for your face.
To complete, paint your nails with the same color as the lips.
Black dress for all bodies
Something very convenient when choosing a perfect dress for you is to do it according to the shape of your body. The idea is to mark the curves and take advantage of the black color to help us refine the parts we want.
The round neck, for example, favors women with a larger bust, and the sleeveless V-cut is suitable for those of short stature.
It may interest you : Different types of tank tops in trend?