Girls' sports shoes are a trend. The sneakers ugly (or shoes "ugly") are at the foot of almost all the most influential girls in the world of fashion and have taken over Instagram. And it is that sports shoes have never been as glamorous as this 2021.
Girls Sneakers are the new trend
 The "ugly" sneakers are the new "must-have" to be fashionable in the coming months. With designers like Karl Lagerfeld and Raf Simons wearing athletic shoes, athletic shoes are officially here to stay.
And we are surprised that they have taken so long: they are comfortable, versatile, affordable (not all), and they are an easy way to add a little joy, irreverence, and color to our "outfits."
And all this without giving up style. And if not, ask our favorite "it girls."
Girls in Sneakers
Girls, as you know, sneakers are very fashionable. And we love it because it's comfortable!
But it can quickly get overlooked if you don't apply a few tips to stay stylish. So here are some tips!
 To be chic in sneakers, choose trendy models that match your body type.
Well, to start, you have to choose trendy sneakers. FYI:
 White models continue to wreak havoc, especially Adidas.
 Very sporty shoes with thick soles are also very IN.
As well as a fancy or metallic sneaker.
So, once you have rehearsed the suitable models, you must, of course, choose It according to your morphology, especially if you want to show the legs!
As a general rule, and if you want to show off the legs, I recommend high-top sneakers for girls who have thin & long legs.
Then for girls who have fuller legs or who are tiny, low-cut sneakers. With low-cut models, they will not pack.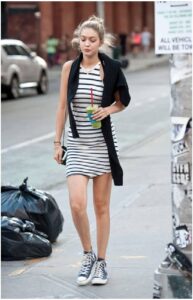 Have a pair for sport and a pair for the city
Afterward, and I see this fashion faux pas a lot, we must not mix city sneakers with sports sneakers.
Sports shoes are tired and use for sport. So you have to invest in a pair just for the city.
Even if it is identical to the one in the gym.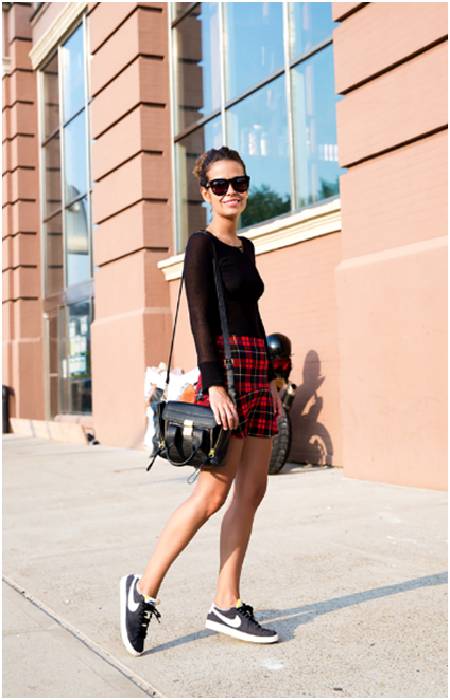 So, do not mix the sneakers! Okay?
Shift your sneakers with feminine clothes
Then, to be chic, you have to think about mismatching!
It gives a sporty, relaxed look to completely offset with skirts, dresses, leather pants, and jackets.
Anything that can add sophistication to the look. This way, we bring more modernity to the outfit.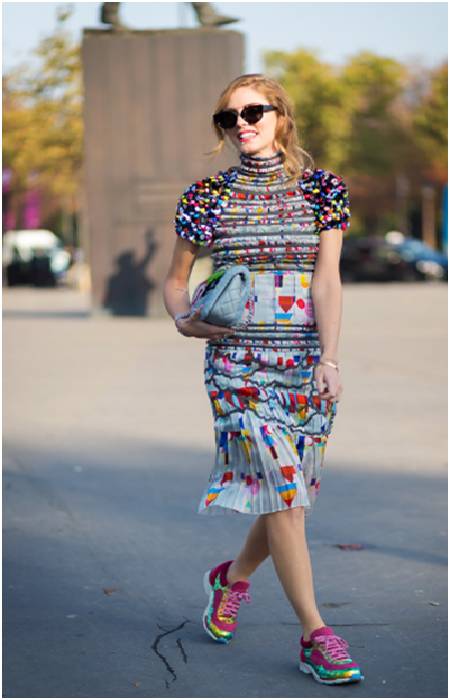 In short, we must avoid the first-degree look: tired sneakers, jogging, sweatshirt.
And above all, clean your sneakers. Dirt is not chich
Then last little advice: girls, for the love of fashion, clean your sneakers! Dirty sneakers are not chic at all!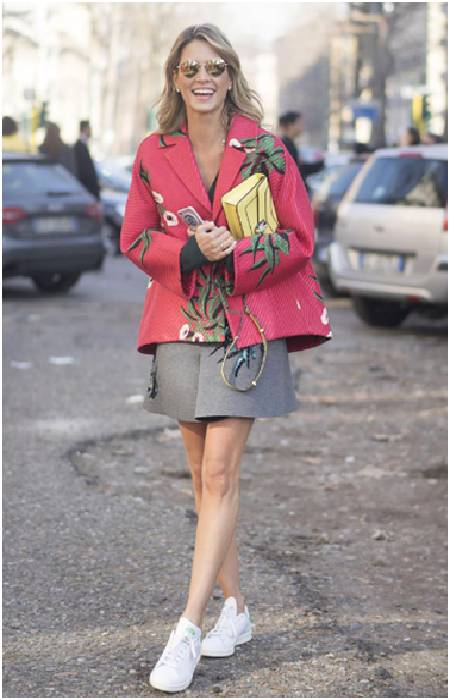 There you go, with a little common sense, it's easy to look stylish in it!
Which women's sneakers are the most fashionable
As in the rest of the fashion world, footwear is not impervious to the ebb and flow of trends.
 And the same thing happens with it as with women's boots and women's ankle boots; What if white, black sneakers, with pastel tones, with metallic colors, high, low.
Ballerinas are a great proposition for spring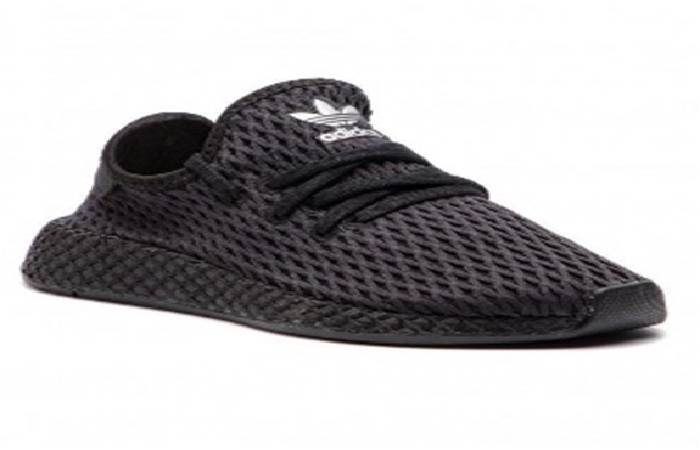 You can choose between their leather or fabric version.
Your daughter can wear them for family or formal outings, like afternoon tea at her grandmother's house, a wedding, or school events.
They will easily accompany light skirts, dresses, or elegant pants.
When the weather is changeable, opt for rain boots.
Girls often like them in bright colors, like pink or yellow.
Their sole should be non-slip to prevent falling. If your child likes to play in puddles and mud, this will be a great choice, especially since the rain boots are easy to clean.
Conclusion
Girls like to play with fashion, and they have their requirements! Finding shoes to their liking is not always easy. We offer you graphic patterns such as animals or princesses. Embroidery, fringes, flowers, or sequins should also please you.
In addition, you can read more helpful resources at knowaboutanything