Office wear for women
Skirt or pants? Stockings or bare legs? Sandals or pumps? Some of the questions women might ask herself every morning when choosing work clothes. And depending on what dress code your company prescribes, it may be right or unfortunately out of place in your fashion selection.
According to a survey, only 55% of workplaces have a dress code. If your new hire doesn't cover this, contact Human Resources to inquire about the official policy. But even if your orientation guide tells you to dress "casual," what exactly does that mean? What is acceptable and what is not?
Also Read: How to wear long tops and achieve fascinating looks?
Dress codes for women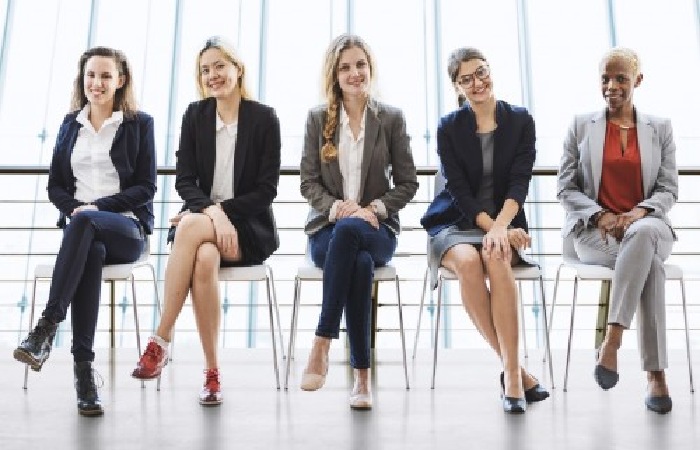 There are four types of corporate dress codes for women: formal, business, business, casual, and casual. Here are some general tips for women for each category. Stick to the basics and make sure you have always dressed appropriately.
1. Formal business
If you work in the legal department, meet regularly with executives, or hold a high-level position, you may be asked to wear "business attire" or "boardroom attire." It is the highest level of professional clothing.
 A well-tailored pants or skirt suit in a conservative, neutral color such as black, navy, or brown.
 White buttons with collar.
 Closed heels in neutral colors such as taupe, black, gray, or brown.
 Stockings, preferably dark in color.
 Conservative accessories, e.g., diamond stud earrings instead of chandelier earrings.
 Well-groomed hair with a conservative cut, such as tufts or soft layers.
 Never skirts more than two fingers above the knees.
 Neutral, well-groomed nails that have a clear varnish or are painted with beige-colored nail varnish.
2. Business professional
One step away from formal business attire, professional business attire remains neat, conservative, and traditional, if a little looser regarding color or pattern. Business people are sometimes referred to as "traditional companies." Expect a professional appearance every day and add personality to your outfits with your accessories and color options.
For women:
 Suit or skirt, blouse, and jacket in a conservative, neutral color such as black, brown, or navy blue.
 Shirts with button-down collars, which can be any solid color.
 You can wear dark or nude-colored stockings.
 Closed pumps in neutral colors such as black or brown.
And also, never skirts more than two fingers above the knees.
Neutral, manicured nails. It can be a transparent or beige coat.
 Hair must be clean and tidy but check with Human Resources for acceptable cuts and colors.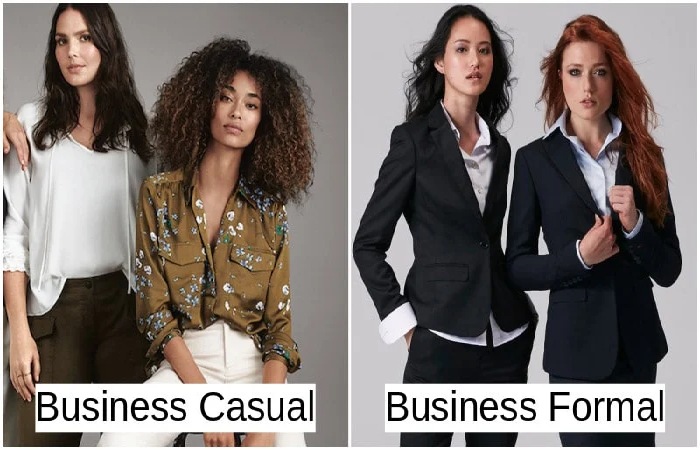 3. Business casual
Business casual wear is one of the most common dress codes in North America that allows employees to add character to their workwear without looking unprofessional. In an informal business setting, you can expect many more when it comes to colors and accessories.
However, the term "business casual" can mean different things to different companies, so it is always better to check the guidelines with the HR department rather than make assumptions. Note that business casual can sometimes be referred to as "executive casual."
For women:
 Business separates instead of a suit: a skirt worn with a cardigan or jacket, for example.
 Colored shirts and blouses instead of the required collar buttons. Choose plain or muted patterns such as stripes or checks and avoid low-cut shirts or light designs.
 Pants and khakis.
 Larger jewelry, e.g., B. a statement necklace or a large watch with a bracelet. It doesn't necessarily have to be of the highest quality – gemstones and other casual materials are acceptable. Scarves can attach.
 Shoes can be comfortable flats and slippers as well as pumps, but they must remain closed. It can be any color; black, brown, red, navy, and gray are best.
 Nails must well care for, but color restrictions may apply.
The hair can be more casual, with less conservative colors and even more noticeable highlights (thick or high contrast) in general acceptable. Even so, it should be styled neatly, such as blow-drying or in a ponytail or bun.
4. Casual
If you are providential enough to work in a casual in an office, the trick is not to make your look overly simple or creative
For women:
 Well-fitting blouses and blouses, whereby shirts should never be tight or revealing.
 Pants or skirts made from more casual fabrics such as cotton. If denim is allowed, only in dark colors. Avoid denim cuts that are too casual, such as cropped or flared jeans.
 Skirts must be knee-length.
 Open shoes are allowed. Avoid casual shoes like sneakers or flip-flops.
 Accessories such as scarves. Larger rings, earrings, bracelets, and necklaces are delicate and can be of any quality.
 More freedom in hair length, style, and color. More adventurous styles and colors are usually delicate.
 Nails can be painted in lighter colors or any pattern. Avoid novel characters or designs, or limit "louder" methods to a single nail.
Also Read: What are Jeggings? – Benefits and Tips for Wearing Jeggings