Women's Jogging Pants
Jogging pants are associated with running and gyms. First and foremost, jogging is an item of clothing for physical activity.
However, it has taken over the fashion runways and has invaded the closets of the most avant-garde fashionistas.
The exercise now is to know how to wear the jog in a chic and stylish way. But jogging pants allows many other looks. You are on your way to becoming the new slimmer one.
Jogging benefits in tracksuit
The primary function of jogging is exercising. What we most often refer to as a tracksuit is initially wearable over sportswear.
Between two training sessions or while waiting for the start of a competition, the athlete puts on his fleece sweatpants over shorts and a shirt.
So you stay warm, protected from drafts, rain, wind. This is easy on your muscles and joints and thus contributes to your physical performance.
From the 70s and 80s, jogging left gyms and stadiums. It becomes a garment that we will safely use for sports but also on the street.
The first to wear it daily are the rappers who popularized the streetwear style in the 90s, the jogging icon.
Jogging recently took over the catwalks—big houses like Chloe Parade Models in sweatpants.
And sweatpants with or without a ribbon made of gray fleece or shiny silk are now being invited to the streets through dressed and processed looks.
Which sweatpants to choose
To run around the city without looking like you are going to the gym, you need to choose a suitable model.
To distinguish jogging from the logo of major sports brands such as Nike, Fila, Reebok, or Adidas, we have developed "sweatpants," i.e., sweatpants from fashion brands.
The materials, patterns, colors, and cuts are more in the sense of "fashion" than "sport."
You can choose sweatpants made of cotton, plush, silk, satin, velvet in terms of materials.
Essentially  jogging is comfortable
However, there are slim sweatpants that are easy to wear.
One of the essential things in your wardrobe is jogging with carrots, that is, pants that are wide enough at the level of the buttocks and are tight at the ankles.
It shouldn't be too wide so as not to be confusing with harem pants. Jogging is also usually stopped at the waist with an elastic band or a drawstring.
It may have pockets, sometimes with zippers. It can also open on the side of the leg, usually with a series of snaps.
There's nothing quite like neutral tones like black, gray, or navy, or even brown and burgundy, to stay sober on the color side.
Pastel and light colors are also easy to use, such as B. pale pink or beige. Finally, solid and vivid colors are discoverable, but they are more challenging to combine and adopt.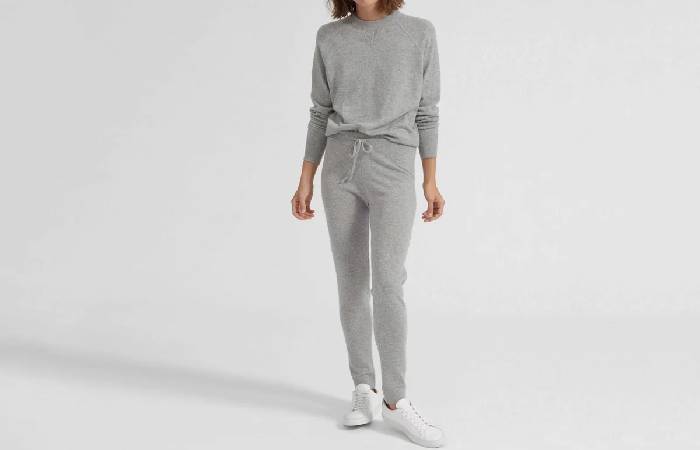 Jogging pants styles in the city
The advantage of jogging is that it creates looks that are both comfortable and stylish. But how exactly can that be done?
Outside the gym, jogging wear with a blouse and heels. In absolute terms, the idea is to pair it with at least one chic piece to break your sporty image.
The most daring wear it with pumps or thin sandals with stilettos.
You can also go for the entire sportswear look with jogging, sneakers, a tank top, and a hoodie.
You can also play on the go by pairing wool trousers with chunky sneakers or studded boots, a baggy t-shirt or crop top, and a black leather jacket or denim jacket.
Conclusion
On the sophistication scale, sweatpants or joggers score pretty low. If it hadn't been for the rise of sportswear, joggers, and any other derivative of adjustable-waist pants, this trend would probably be relegated to days at home or the gym. But to know how to wear and combine them, let celebrities and influencers show you how to give classic sweatpants a touch of elegance.