[Pii_email_e80c99419553948887a9] Error Solve
The most extensively used email service in the world is Microsoft Outlook. Many people use it for personal use, while others use it for personal and professional use. It has many built-in features that make it more suitable for both business and personal use. While many users use Outlook, many errors can occur when using an Outlook account. Various reasons can cause these problems. These problems are called pii_error and can be very annoying. As irritating as they are, they are also easy to fix. There are many ways to deal with the pii_error error, and today we will tell you how to fix the [pii_email_e80c99419553948887a9] error.
Are you looking for a workaround for the [pii_email_e80c99419553948887a9] error? Below are some instructions that may help you resolve your problem. If you see the error code [pii_email_e80c99419553948887a9], it means that Outlook is not working properly.
However, when using the email service, the error often becomes [pii email e80c9941955394887a9]. Post various functions, get emails and files to the recipient, then hit send, and the error will be returned. Why this? Suppose they have a slow internet connection or use multiple Windows accounts and programs. In that case, their email inbox is full, or there is a security conflict from the antivirus on their device. Several simple error statements [pii_email_e80c99419553948887a9]. Let's go ahead and check.
This error can cause by the installation process because MS Outlook has problems downloading or installing applications or email accounts. Everyone else is in such good condition that the computer is unsupported or it crashes. Users have to make use of their long-term digital archiving.
Also Read: Tamil HD Movies – Watch And Download Tamil Full Movies Free On Tamil HD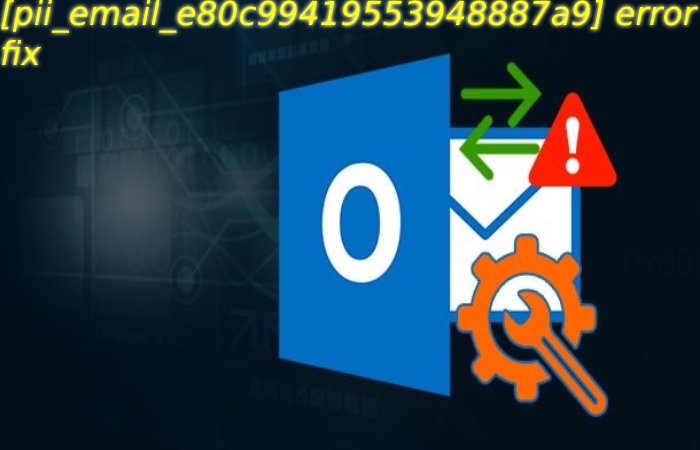 [pii_email_e80c99419553948887a9] error fix
Steps to fix Common Error Codes
We may have multiple email accounts or software on your computer, which could interrupt your use of Microsoft Outlook. So, consider logging out of most services, closing all applications, clearing the cache, and then returning. To sign in to your Google account.
If you install Microsoft Outlook on your desktop and continue to use other addresses, Outlook email will otherwise conflict with many other email accounts or other software activated on your computer, and an [pii_email_e80c99419553948887a9] error will be triggered. Therefore, you may need the latest applications, such as B. Turn off Microsoft View of the World on your computer, then download the latest version of View of the World from the main Microsoft View of the World page.
 If you still cannot solve the problems after several attempts, we recommend checking and using the web-based World Version software view as it will not cause any malfunction.
The [pii_email_e80c99419553948887a9] error may be due to an older version of Microsoft Outlook. So make sure you update your latest applications, e.g., B. Microsoft's worldview, to a real one so that it can be used.
 Microsoft Word almost always causes problems in Internet Explorer. So if you are using a PC, try using email on operating systems like 7 or 8 to get rid of the [pii_email_e80c99419553948887a9] error.
We should then contact Microsoft support for further clarification if you still cannot resolve the [pii_email_e80c99419553948887a9] error. They will help you fix the problem right away. They will ask some questions, answer them to find a solution to the problems. mystical messenger emails
Conclusion
Folks, we hope the instructions above help you fix your Outlook error [pii_email_e80c99419553948887a9]. We tested our first grade to give you simple, top-notch answers, and you can easily fix the error code [pii_email_e80c99419553948887a9] using any of the techniques above.
Also Read: Bhaukaal – Watch And Download Crime Action Thriller Web Series For Free
Related Articles: 
How to fix the Outlook error [pii_email_84e9c709276f599ab1e7]?
How do I solve the [pii_email_e7ab94772079efbbcb25] error code?
Search Related Terms to [pii email e80c9941955394887a9]
[pii_email_e80c99419553948887a9]
[pii_email_0ad520a0be6582097e0d]
[pii_email_441ab633e037aadb52c0]
[pii_email_958f50e15ec0346a0f94]
[pii_email_59f973f4231f5a5eb99f]
[pii_email_6546c9ae4f944d66e9bd]
[pii_email_84e9c709276f599ab1e7]
pii_email_e80c99419553948887a9
[pii_email_dfe907e4982308153863]
[pii_pn_8f12e602dec575dc7396]
[pii_email_fe52fe092f156e585097]
[pii_pn_c58281fe0ee7477516da]
[pii_pn_b26d7d613c84c6078334]
[pii_email_a7856dbacf4f75cf2ec0]
[pii_email_8833c133ba6bf68312e4]
[pii_email_31d30373eea36d659548]
[pii_email_c426b92fbc150a7cec4a]
[pii_pn_6f3f91ba0df9ccfd2234]
[pii_email_ba3384a2fbaa82746170]
[pii_email_5a9dd1769eb8d5819752]
[pii_email_5534823a44955f59b6ac]
[pii_email_754148a1dba2c88f7bdf]
[pii_email_f009cb223b6c69101d52]
[pii_email_ce84e7318ce1be3ac9ed]
[pii_pn_0fc7ae6eebe70824fc42]
[pii_pn_eb1b8dbb39fce58ab2b5]
[pii_pn_c02eba3fc35478ba455b]
[pii_pn_101a730f3992101b6d00]
[pii_email_71e184a6f0a4d86e223f]
[pii_email_8c5850add04e0cd81a12]
phone number [pii_pn_ceecfa31f09c8cbf32fa]
[pii_email_b903460f42e46c6b7f94]
[pii_email_d8dcd92fa987183c0ac4]
[pii_email_aa3c95870083e9b63fac]
[pii_email_7fde4f51d533bec3f9b4]
[pii_email_d998185871b7e7221349]
[pii_email_4e92cc96568bde403719]
[pii_email_3a95847fdac766e7af45]
[pii_pn_e0382cfeed009076c5d2]
pii_email_e80c99419553948887a9
[pii_email_f853c71cca684715ee23]
[pii_email_9d5b3c5ebdece8f2e20d]
[pii_email_a7a70d98243c60d17c2f]
[pii_email_5402ae395abc88bcaa85]
[pii_email_bd7b599fa6dc2e819d63]
prepaid [pii_email_7fe157c5f57e87911dea]
[pii_email_ccc295ddc994fa78d3ac]
[pii_email_eda33b576cb49cf6aa9d]
[pii_pn_62bfc46a86f6d36a7569]
[pii_email_2c828a38df90d054940e]
[pii_email_80c5c6cdd49f6410d4f4]
[pii_pn_222373c86fc4c2750775]
[pii_pn_4305ef270933f04624d4]
[pii_email_62cd7da696374ecec8d0]
[pii_email_197bae6fe8e749f3026a]
[pii_pn_f2749cfc01461eabd4c4]
[pii_pn_013769a21827fbeb4e7f]
[pii_pn_fb0a0e7b83f0e14a1d78]
[pii_pn_4096480ac6f99545b44e]
[pii_pn_d0f983f318a8e4f395f9]
[pii_email_11d256320061a84e8460]
[pii_pn_3c185d53484aa8d1eb54]
[pii_email_798b3143029ad88b71e4]
[pii_email_c01270dd34a584810b34]
[pii_pn_7290ea01c5869c37c2bc]
[pii_email_b681488ead911bb21417]
[pii_email_9f4f6e9fb0079ea43754]
[pii_pn_b780620d3290f5eb3706]
[pii_email_b708e2b144962353ea72]
[pii_email_caf951625644dd4a6483]
[pii_pn_cea6aa0b2ef7e344a675]
[pii_email_f97b35a8bda45a6e3adb]
[pii_email_0c1e11c48eb4d1a97d0d]
[pii_email_38705c70de02d2b0ff76]
[pii_email_64b0e8ec64f9132deb34]
[pii_pn_2bbb1e6be9eaae7144b9]
[pii_email_3f0cab741fbbe8930ceb]
[pii_pn_0ca8241a0728bf3e57ae]
[pii_pn_00fa5aac4cb475a117e7]
[pii_email_653158af59ce2cb99c3e]
[pii_email_508e30d175168c81c795]
[pii_email_fb6b5ee4e9185bf14b87]
[pii_email_17e4ee1951eabadf4f25]
[pii_email_9a3c01bf261ece94d47d]
[pii_email_0cbe7bfcb4f1417624a0]
[pii_email_1d21495d47e5e4fea0fc]
pii_email_e80c99419553948887a9
[pii_email_f0f5d83d8a62e3e9a7a6]
telephone number [pii_pn_c71ad0ea8bfc927396e9]
[pii_email_f92efdadbb8227595466]
[pii_email_7eb02f1b0c1bfe07f71d]
phone number [pii_pn_c71ad0ea8bfc927396e9]
[pii_email_15f939ffdb85dbe480e1]
[pii_email_ae49f95a6e5b45f044aa]
[pii_email_8fd00ba6e531eeeea5ba]
[pii_pn_91baa9a61a967c464392]
[pii_email_53605cfb931eea487a98]
[pii_email_b58b4e87481c2784047c]
[pii_pn_8936521574e6f7b48c8e]
[pii_pn_38abc784e3fa70ce2b28]
[pii_email_28c67e485aa5747f53ce]
[pii_email_9d05a09fb71205ecf247]
[pii_email_c5b523234a75cac0ec01]
[pii_email_fba2303ec3f68b970740]
[pii_email_c4312e03fd021932f462]
[pii_pn_8bc70284a4884861a8b4]
[pii_email_9deadf174cbfd4b5e316]
[pii_email_aed9dba19fe1c03f7c52]
[pii_pn_aeca99ebf43495326732]
[pii_pn_0d3c905c8f737173f6fe]
[pii_email_dee09f2fe3d86f2eaa60]
[pii_email_82a527a15b5b7cfd415f]
[pii_email_261b78a5579f615ecb70]
[pii_email_d08372c05820a7c96786]
[pii_email_cb28e2bc421bee24619f]
[pii_email_d2075e47edb3a37000cc]
[pii_email_050e0c3520a005d76fe0]
e-mail for [pii_email_aea785af85801d184f0b]
[pii_email_26aa55e19d54cdbb5c7f]
[pii_email_d15cbb88d552d5f9db3f]
[pii_email_d97712b14355c037ddde]
[pii_email_8e9ddac4bf20c42597c1]
[pii_pn_a18f1896bec6abd449db]
[pii_email_5b0f7f8f8097d620fc28]
[pii_email_6440e5cab32c6bbac184]
[pii_pn_acf3edecd28259deb32a]
[pii_email_f6d1946928e31b3892de]
[pii_email_edbf3cb2f3b5ae95b15b]
[pii_email_b1ba64c82689d82cc5c6]
[pii_pn_638cf01a02bdb70cdc58]
[pii_pn_bcd91eee140f11216476]
phone number [pii_pn_b54458cd046f2526cd74]
[pii_pn_099380057b9d5e7034c2]
[pii_email_b0f63edc7151b71f773f]
[pii_email_b28bfce45495365ae254]
[pii_pn_cfac78506551461f302d]
[pii_pn_c961ab3d69a1dad82c68]
[pii_email_8e3bc1d2d37ebcd3f45e]
[pii_email_4c1cc06ee3984c01977a]
[pii_email_2e3155debffaa1b64a4d]
[pii_pn_fdea0a97ad12e8a70775]
[pii_email_033e9737dfcf6263fe2d]
[pii_email_8c81f803e355a693980a]
[pii_email_6a56648375924d5d1d84]
[pii_pn_69b82ebd758508e4db50]
[pii_email_96ccd0824630552b7eb8]
[pii_email_484874a25ee9f2e34de0]
[pii_email_877dca3e2c13106452d1]
[pii_email_b6428204b77f918da659]
[pii_email_ee8ea18b4f00ed1ba25a]
[pii_pn_341d09521b1534664282]
[pii_email_8660a6871953f209cd1e]
[pii_pn_5c21344ff272977bfc00]
[pii_pn_d890bcc1a47c58e31e23]
[pii_email_f8e1107dbd92f5614e71]
[pii_email_620368097d5b948773bb]
[pii_pn_2082d02f230170a8a0ea]
[pii_email_6f1d740637269d56e054]
[pii_email_f0f71374bca3833b5e4b]
[pii_pn_6c7cb856695f24c6ab27]
[pii_email_4ee3e581e83bbf7fff60]
[pii_pn_b4bc5f178b10a5ae5d52]
[pii_pn_cdf9c574b82ac4a83044]
[pii_email_cdc7ea5d5544d1c34732]
[pii_pn_9d8cf70b29b7262c2ef3]
[pii_email_4fdfb8d906c3f24daa3e]
[pii_pn_a08e34d90bc7a0df07ef]
[pii_email_42a33e0afdba84876172]
phone number [pii_pn_a5cc0e85b566ac39f3d4]
[pii_email_83d6691c51b90eacea22]
[pii_email_7acdacdec9348eb51e4f]
[pii_email_2dd3ec8e162e792476f6]
[pii_pn_01c250e7abcb69ba2942]
[pii_email_2f20ad3f073e6da890b6]
[pii_pn_f2df93ff4cbd52f73e99]
[pii_email_2be7638938e11ed101c7]
[pii_pn_625f66d058ab5315cb99]
[pii_pn_06105a5450bbfc7656fc]
[pii_pn_c2ad666bb8723d5afc3d]
don ho [pii_email_d00c2eb01b503dd4ba68]
[pii_email_bce3c23a2829b52eec71]
[pii_pn_39b28b313a36fc9a2fb2]
[pii_email_fbd8b9b7447125b9befc]
[pii_pn_c3cc7248e1d8c5f37f7c]
[pii_email_9932f8393c1605a9b957]
[pii_email_94ac576b55755c9250d5]
[pii_pn_82fbe18d70fd4ec1b62e]
[pii_pn_f44b7ecb69e639380bbd]
[pii_email_cdf2924beb18270b9086]
[pii_email_f24c4659b3882fdfdc12]
[pii_email_d30f254c767bb2f2f59f]
[pii_pn_aaf25e5d2e540a8c803d]
[pii_email_0cdd582f3c89ed6ff081]
[pii_email_edbf2cf488eef71fe0f8]
customer [pii_email_c91d803f55005ec3fdf5]
[pii_email_a0aaeb0a78c7f22eee73]
[pii_email_9034ffdda7776bc674df]
pammp [pii_email_b63c52d7d3b7becac2e2]
[pii_email_a56aa725f1f0f84a1285]
[pii_pn_1ecf4148fb74a85b2e18]
[pii_email_4cf1e72828aab23b3ed9]
[pii_email_3d9f428432587513f224]
[pii_email_0f752b59deac9b3201ba]
pii_email_e80c99419553948887a9
[pii_email_642b29014b5cbd26e83a]
[pii_pn_d399bbc2f3bef2e076be]
[pii_email_a2b89fe5382eb17e0bc9]
[pii_email_3356c7193bf0896eb456]
[pii_pn_2b38d47b18fee0980e42]
[pii_email_bc0d4a41770ce3008840]
[pii_email_e2940f5499f655f8d322]
[pii_pn_f61dcf1f84b87465018c]
[pii_email_9b9fb20011bd0642b059]
[pii_email_ec35e96a99ec9772a6dc]
[pii_pn_c9760b2ce4847b882964]
[pii_pn_fc6a6222de602982611a]
[pii_email_f47672f6241bda74601a]
[pii_pn_f10228be4e5d92508076]
[pii_email_5a0f550f99a5a1fd6fd6]
[pii_pn_e42d2ee469fca4032e20]
[pii_email_664043b6065624e6bc25]
southwest [pii_email_d3879e7d1b06182f24fd]
[pii_email_4253baea62da0118f038]
[pii_email_f4a2a90a09170d428376]
[pii_pn_828ce26c607137da10f1]
[pii_email_d2275f14bad0545166fa]
[pii_email_1688dbe780b08474e703]
[pii_email_60b02dd866ba4786a591]
[pii_pn_55c26fb943617d000b10]
[pii_email_b01bdcd91fa01cc413ea]
[pii_email_223f4e94902b42edce6c]
[pii_pn_6d7d7994f4d1202c1c54]
[pii_pn_ebd4cb393f461152ede4]
[pii_email_0f5fcd71796011ae2641]
[pii_pn_b0d06490989b2f73df16]
[pii_email_e7f71c0780ae9baa16c2]
[pii_email_61961f23fa6a16c0cf3e]
[pii_email_dfe907e4982308153863]
[pii_email_d1dc127ffd709126747e]
[pii_pn_66ffef78e685871a4f5a]
[pii_pn_21e92d6bee4122b60396]
[pii_email_1290631971de21b4c71a]
[pii_pn_7a63e2808e8511962735]
[pii_email_57530f3676e66c0a4b99]
[pii_pn_7c4eef7a2d43cea1be08]
[pii_email_03cdc862bc33193db4ed]
[pii_email_3eb2f4e6484818e7d3b6]
[pii_pn_378dbf73ba10cd075364]
[pii_pn_6559333c85388865c6a3]
[pii_pn_7cf2cbb3cfec4f7bf7df]
[pii_email_e745d5042eeb89e3dc55]
[pii_email_7cc294d4b7f8f2adcd05]
[pii_email_73555eaca9df35794edf]
[pii_pn_483587d0cdce46c27fc5]
[pii_email_a077d498a97913477ee9]
[pii_pn_e8f7e3d41db5e764f3d3]
[pii_pn_f4c3e78fba439d80bff1]
[pii_email_fc3c1a3d8c435acc598a]
[pii_pn_966ee3275db5841886f3]
[pii_email_2229a5845a4ab5ca3a57]
[pii_pn_732770be57df7fdb915f]
[pii_email_e54bcc0d1b256cc8b70a]
[pii_pn_6bb27aab7cb21e2e1116]
[pii_pn_72ec552287f8a08fad01]
[pii_email_ec321137f96e1e731ce4]
[pii_email_894977735fa60524dc3b]
[pii_email_d67cb8e68c081e876bb8]
[pii_email_7f164c8cb3c39f1ef00a]
[pii_pn_a39e658174ca71187058]
[pii_email_c6ff10891aa08455fafb]
sterling clark [pii_email_8ff2c420d5de991b0c35]
[pii_email_370a711a0b644851e96f]
[pii_email_95c93b436dc7b78ca438]
[pii_email_efa615a7df44533a8d31]
[pii_pn_3c21aaf9f6a439bdd6bb]
[pii_email_645fd4ae2390a7ddaf1a]
[pii_email_4a4a30b3808703fddc60]
[pii_email_e54fddf47e6ff67865b8]
[pii_email_5b44554150de44679b65]
[pii_email_43e5c4ad623fe1c9a05a]
[pii_email_f547f8d162a6e119560c]
[pii_email_563d0c0823b72ae99467]
[pii_email_47a0daa18bfa16bf139d]
[pii_pn_16721b5b119e305997d1]
[pii_email_c41581e71a16b6e614e8]
[pii_email_2341791c6ae0d86ea2c3]
[pii_pn_6c50b777492145258ed3]
[pii_email_8587587202ae83d25c6d]
auto [pii_email_c6d4a2ee708a33bbc7c8]
[pii_email_0307e6c14eb3d9ff3622]
[pii_email_4183e099653f6d03c64a]
[pii_pn_e5765ece6cf3a1dd0331]
[pii_email_92f57b7e59d4d6045a4f]
[pii_email_cba7a7b112f397fed6f5]
[pii_email_d03660c6d4a187c9186e]
[pii_pn_6a64a2cf240db498c531]
[pii_pn_f246105bf39d9aa19c09]
[pii_pn_47a6a526a5648709d993]
[pii_email_ce6774fb76d3765798be]
[pii_pn_2be6156301a8c20f4e5d]
[pii_email_93c7d8f14980ac80ea0d]
[pii_email_1b13f58c39c37e5fd880]
[pii_pn_937bae39a8f6c5e69264]
[pii_email_c6f7c9d7e5e017e42ca4]
phone number [pii_pn_7b2b8d97cab386ba6975]
[pii_email_dc2ea6fe88348f3b7c52]
[pii_pn_ca8e2b19771126c8a591]
[pii_email_f1262a1b8bcf30ac57fc]
[pii_pn_0ef060fc7f616f747103]
[pii_email_4aa97d75ad172d073d34]
[pii_email_f548e2a69ea5ad35e209]
[pii_email_00a1b59299b86f913799]
[pii_email_3f4042371b27976b7276]
[pii_pn_fef7a50d6cb1fe7710c4]
[pii_email_e8912369648040470bc3]
[pii_email_2139d9a25af2b9b50eb4]
[pii_pn_9ae357ae0ab802c00547]
suffolk [pii_email_8ce60bd16b3d34c72bc5]
[pii_pn_fb1afce97af126d031e2]
phone number +[pii_pn_9caeab579a83172482bb]
[pii_email_26405c53554d9d8bc3d6]
[pii_email_5bbb8983396c5f515ed7]
[pii_pn_95d0baee7eafddd47ff6]
[pii_email_d98ff9f7fb0dc3123419]
[pii_email_6d75c49b3383dd1f164b]
[pii_email_6e9b3d0429fd6f4e95da]
[pii_email_54fd2fd75745f8b8d9bc]
[pii_email_ed38e0cd74d4952df40e]
[pii_email_f77bf515bd75c74c8719]
[pii_pn_41e7784a4a4ece568487]
[pii_email_2097101c9c129b00cc1c]
[pii_email_a15fffa342f7bc280975]
[pii_email_0046fe25fd8fcc4305b5]
[pii_email_bf7be2adf5564dc8d143]
[pii_pn_5194abf9d9bdaedb4a69]
veterans [pii_email_230320e6e97a7dfb74d7]
[pii_email_60ba01fdfb8d5901b706]
[pii_email_f4e7254ee009928fb0d8]
[pii_email_b499f3ce8bbdead8478f]
[pii_email_9bc964efbe49124a54ca]
[pii_email_1b3a20d3d58f7bec2b8e]
[pii_pn_d13f1fdff9b7d6c52016]
[pii_email_610f6a7dd6076afa4838]
[pii_email_1e95b0dcacec8a300436]
[pii_email_7e9e63070a574b7f0d36]
[pii_pn_824cb072119d1bfa8269]
[pii_pn_e059860783e448e323ba]
[pii_email_2e4485475b184f0b11f4]
[pii_email_1bf3c211016b6da801fa]
[pii_email_178281afd6a859075cd3]
[pii_email_6726775cb654b840da94]
[pii_email_44aa9c1275c1f0edda03]
[pii_email_fd9cfd5b43a4939fa08e]
[pii_email_a0a585c3c203b0836010]
[pii_pn_11382d800255f0bfb674]
[pii_pn_94984029b8bde6796c7b] phone number
[pii_pn_f43e7ba9726b8a85fd66]
[pii_pn_1531d15645fb11eeb05c]
[pii_email_ac651af0f35857f50861]
[pii_pn_a463a9beee254123f7d0]
[pii_email_9adeb2eb81f173c673a5] fake
[pii_email_d00c2eb01b503dd4ba68]
[pii_pn_2dd2cf69b6e27e6cb107]
[pii_email_4a2e1dae57caa0880ccf]
[pii_email_0ad1b204d36846acd2f6]
[pii_email_579f24e681daaf66953d]
[pii_pn_97da711e7e6cbd9ae45e]
[pii_email_84f0870bed351f78e5ae]
[pii_pn_31b3ad66f354c61e9e7b]
[pii_email_a1b240a2de2ec5cd9043]
[pii_email_8002f1b01737b0826f82]
[pii_email_05d20ea1212aea77b7a2]
[pii_email_44173dc6e6a7f33d7414]
[pii_email_7d8bbe727e11db2f436e]
[pii_email_b111a7d4dc69c9d27fae]
[pii_email_af1fe60d93f7d15787c3]
[pii_email_5e9ec8edebd11c0564f1]
[pii_email_02ff2ee0b81f90f3ffb9]
[pii_email_1e110a099c450bc9505c]
[pii_email_b011b40a77762c34a6c3]
[pii_email_c60c5d0723d409dacdf0]
[pii_email_650745d91cc3053e06ec]
our [pii_email_8ac5eb8f4d09ad667ff6]