The results are in and the latest and greatest hair trends have made themselves known. In addition to a fresh crop of professional hair color trends designed to help your locks transition from summer to fall, a few notable haircut trends are on the rise. Say hello to the "chandelier" trend, a popular cut and style that features dramatic, sweeping layers.
If you're familiar with Hollywood starlets of the 1970s, then you'll probably recognize chandelier layers as more of a revival than anything else. Celebs like Farrah Fawcett made this look super famous throughout the decade before perms and shag cuts took over in the 1980s. While the chandelier look is certainly an homage to this retro look, it has made its way onto the scene boasting a few fresh features. Here's a look at chandelier layered hair and how to get the look.
What Is Chandelier Layered Hair?
If you're not so much of a retro hairstyle fan or would simply like a breakdown of the trend, here's the skinny on chandelier layers and what the look should resemble. First, it's important to know that this particular style doesn't require the use of professional hair color at all. Chandelier layers are all about — you guessed it — the layers themselves. The look is also defined by dimension and volume with the help of a few professional hair styling products which create that signature blown-out style.
Essentially, this trendy hair look involves long, billowing layers that move down the hair and create beautiful, natural-looking side waves. Another defining feature of this look is a particularly curvaceous set of lengthy and dramatic-looking bangs that resemble long curtain bangs. Chandelier layered hair works best on medium to long hair lengths as well as middle parts. It's a look that's suitable for most hair types and can vary in terms of how tight or loose the curls or waves appear.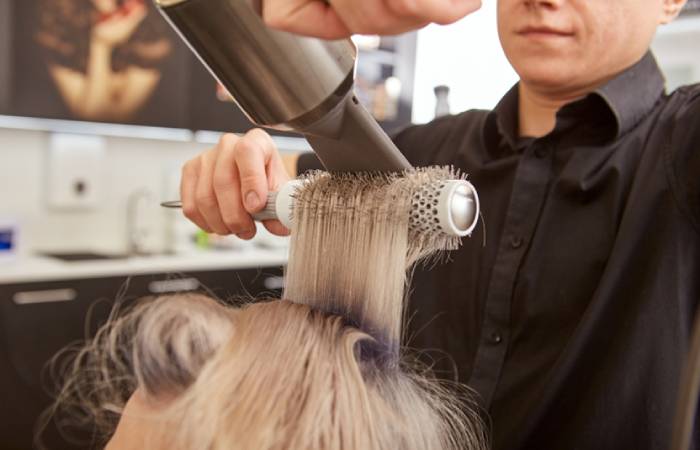 How to Get Chandelier Layered Hair
The process of getting a great chandelier layered hair look involves both cutting and styling. Whether you're a stylist looking to stay on top of hair trends or a client researching potential looks for yourself, the following section explains each part of the chandelier layering process:
The first step toward creating these long, bouncy layers is starting with a blank canvas. To do that, it's important to begin the process with clean, damp hair. While different stylists have their own preferences when it comes to wet vs. dry cutting, using a wet method will help ensure the distinction and precision of the layers.
Next, cut the damp, combed-through hair into layers, working in sections and focusing on long layers in the back and face-framing layers in the front that shorten as they blend into long curtain bangs.
As with any layered look, it's important to assess the cut as it dries. Be sure to dry the hair in sections and make sure the length of each layer is uniform. It's all in the details here! Before drying the hair completely in a voluminous fashion, be sure to add one or two professional texture hair products to give the resulting look a bit of extra body and hold.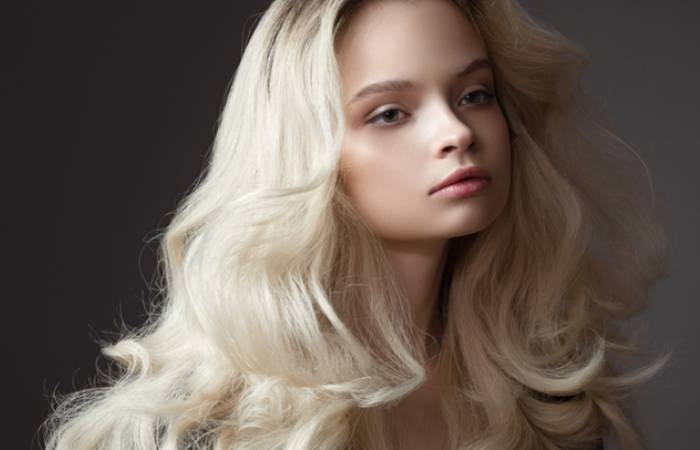 How to Style and Maintain Chandelier Layered Hair
When it comes to styling, this look is all about classic volume that gives off major healthy hair vibes. Before you add any more product to the hair, however, focus on the blowout. Consider using a sturdy round brush in tandem with the blow dryer. Grab a round brush in a medium size for shoulder-length hair or a larger one for longer locks. Using a round brush while blow drying the hair away from the face will help to define the layers individually and create the show-stopping chandelier look.
Once the initial blow drying is finished, the hair should look soft, touchable and full of volume. The layers should frame the face softly, curving outward to form side waves or curls. If more curl definition is necessary for the look or personal preference, work carefully with a curling iron or wand to shape the curls or waves away from the face and into the side sections of hair. Styling products are a crucial part of making this look last all day, so don't be afraid to use a few at the end of the styling process! A dry texture spray and a good salon hairspray will do the trick.
Unlike some popular "bedhead-inspired" hairstyles that offer a messy or perfectly imperfect look, chandelier layers are a tad more high maintenance. Make sure to keep up with regular trims and use quality products and a heat protectant to ensure gorgeous, chandelier layered hair in between salon visits!