White nails are a trend, and we leave you a list of the best white nail polish that we like the most in this color.
How do you only paint your nails white in summer? Okay, with the contrast of the tan on your skin, it looks like pure fantasy but in winter, too. The 'frozen' touch on your nails could not be more trend. If you are looking for how to do them well at home, we have found for you the best white nail polishes, retouches, and false nails. To achieve the best effect effortlessly, a retouching brush is lovely and will make sure your nails are always perfectly painted.
The white manicure trend covers different finishes, pearl, matte, transparent. Still, it is the effect of the innovative and unique type that is sweeping the celebrities, and, if you dare, with very sharp nails in king size. Here are some t nuclear white nail polishes for you to dress your nails the color of snow.
Different types of white nail polishes
NARS Ecume Color Enamel
Perfect white, with a flexible, high-gloss finish to always give the appearance of freshly painted nails.
They create with a long-wear, strong, and chipping-resistant formula.
With added UV protection to prevent fading, they are free of toluene, formaldehyde, and DBP.
Gel Lab Pro Color in Amazing Grace by Deborah Lippmann
This white nail polish features a proprietary dual formula that incorporates ten active ingredients, including evening primrose, keratin, biotin, and silk fibers, to enhance shine
Nail Lacquer in Cabana Fever by China Glaze
It belongs to the Shades of Paradise collection with 12 shades ready to transform the look of your nails from the first layer.
Cabana Fever is the polish that allows a perfect manicure in a beautiful, long-lasting opaque white shade.
OPI Dancing Keeps Me On My Toes Hairspray
The American specialist firm brings you Christmas ahead with its new collection of The Nutcracker and the Four Kingdoms from the Infinite Shine range.
The film adaptation of classical ballet inspires the collection. With this metallic nail polish, you can imitate the magical snowflakes on your nails.
Nail Inc Moon Boots Color Nail Polish
It belongs to the collection of cosmic inspiration Foiling In Love.
It is one of the most elegant white polishes, with a highly pigmented metallic effect that gives the nail a clean and translucent white appearance.
Yves Saint Laurent Beauté Blanc Arty Nail Lacquer
This white nail polish is from the La Laque Couture collection.
With a covering and ultra-gloss finish, the optimal result is long-lasting.
Masglo Nacre White nail polish
Creamy in texture, this pearly white color provides a mirror effect in the final result.
The finish can be modulated, with a single layer, snowy transparency, with two, more excellent opacity without losing brightness.
Nail Polish in color Blanc by Essie
Its white nail polish gives the nail a glossy surface with great coverage and remarkable durability. It formulates with substances that make it super resistant and free of DBP, toluene, and formaldehyde
How to apply white Nail Polish? The 5 steps of a successful manicure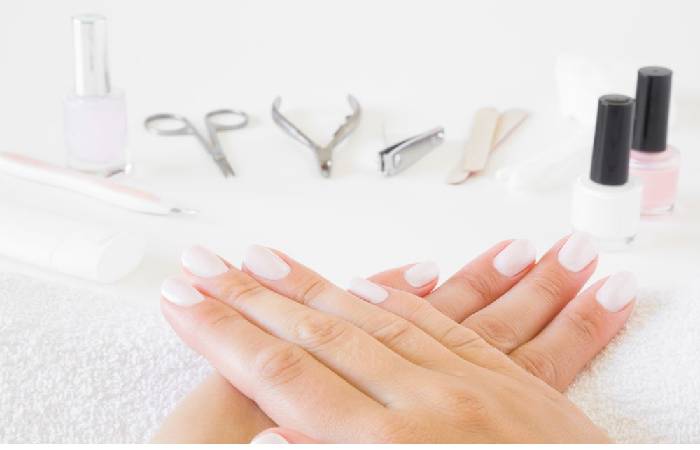 We mentioned it above, but white nail polish can be complicated to wear. It does not indeed allow the slightest overflow.
A slight burr, a nail on which the nail polish is peeling a little or even a trace of an uncertain brush, and it's the guaranteed flop.
Follow some steps which are mention down to succeed with your manicure with white nail polish and display nickel nails.
Take care of the shape of your nails
With white, no way to hide imperfect nails. So, before moving on to the nail polish application stage, we start by caring for our nails to be noticeable.
We first take care of the shape of the nails with a small stroke of a file to even out them and give them a beautiful shape.
We prefer simplicity with short nails and give them a square or oval shape.
Even nothing prevents you from wearing them longer and more pointed if the heart tells you.
And we do not forget the good gestures to pamper your nails, a cardboard file more than iron to not damage the nail, and file always in one direction.
Don't neglect your cuticles
We also take care of his cuticles by applying an emollient gel to soften them if necessary (otherwise, it also works very well after a bath) and push them back gently with a boxwood stick.
We finish with a light buffing stroke for perfectly smooth nails.
While applying the white nail polish
Once you have found the color of white nail polish that suits you, all you have to do is move on to the application phase.
We start with a base coat to protect the nail. Then, we move on to applying the white nail polish respecting the rule of two coats.
A first thin layer of white nail polish left to dry a little, then a second thicker but very regular to color well his fingernails.
Small tip: bet on a nail polis with a wide brush for regular application and optimal nail coverage.
Finish by applying a layer of topcoat to finalize your manicure, protect the nail polish(possibly give it an effect if you have chosen a glitter, shiny, or mat topcoat, for example) and prolong its hold.
Correct small burrs
Did your nail polish smudge a little during the application? Do not panic! You can use a nail polish correction pen for a quick and easy touch-up for nickel nails.
If you do not have this product on hand, you can also make a match or a toothpick that you will roll up a little cotton before dipping it in your usual nail polish remover.
Then, erase the small burrs to have beautiful nails.
Accessorize your fingers
To give more pep's to the white nail polish and avoid the Tipp-Ex effect.
Do not hesitate to accessorize your hands with pretty rings and your wrists with bracelets or a watch.
The white nail polish is perfect for all types of jewelry, including large ones. In short, the idea is to bring style to display a chic manicure.