Jewelry holds a special place in our hearts and memories. Maybe you have a vintage charm bracelet your grandmother wore as a child before passing along to you. Perhaps it's the engagement ring your now-spouse custom-designed to reflect your relationship. Or it could be the macaroni necklace your toddler made at daycare.
Regardless of whether it's a family heirloom or a precious gift, jewelry deserves the proper care and attention to keep it looking like new. With a little jewelry maintenance, you can maintain the luster of your treasured pieces for years to come — no promises on the noodle necklace. With that said, here are six essential jewelry care tips that'll keep your pieces in peak condition.
Store Your Jewelry Properly
The way you store your jewelry can make a big difference in how long it lasts. Store each piece separately in order to prevent scratches, tangles, and other damage. That could mean using individual soft-cloth pouches, small zip-top bags, or a jewelry box with separate compartments. To prevent tarnishing, you can invest in anti-tarnishing strips or tabs. Also, be sure to keep jewelry away from sunlight, extreme temperatures, and chemicals, as these elements can cause fading and deterioration.
Know When (And When Not) To Wear It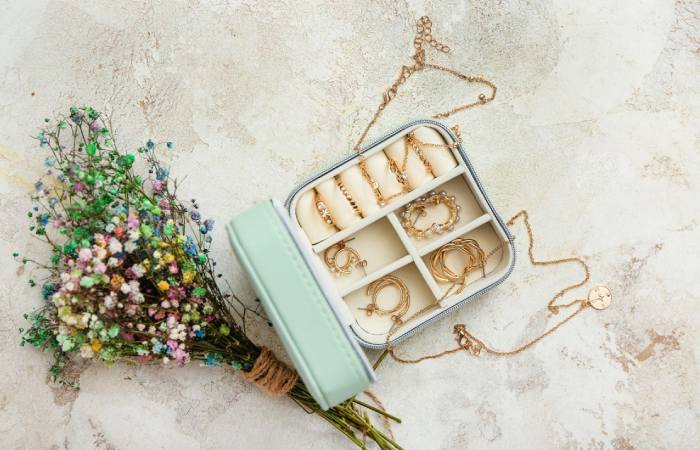 You may want to wear your favorite necklace to the pool or your wedding ring set while performing household chores, but there are certain situations that call for giving your jewelry some time off. Avoid wearing your pieces when exercising, swimming, sleeping, doing household chores or yard work, or even applying body lotions and perfumes. Not only can certain products or chemicals damage metal or gemstones, but heavy activities can also scratch, dent or cause deterioration of your pieces.
Keep Them Clean With The Right Materials
Regular cleaning is the key to maintaining the brilliance of your jewelry. Follow jewelry care instructions from your jeweler, or select a cleaning solution formulated by a reputable jeweler. For most of your pieces (macaroni necklace notwithstanding), you can simply use a mild solution of warm water with a few drops of dish soap and gently scrub with a soft toothbrush. Just be sure to avoid abrasive cleaners or harsh chemicals that can ruin your jewelry.
Ensure Jewelry Stays Clean And Dry
If you've just cleaned your jewelry, you'll need to dry it thoroughly with a soft cloth. And if you have jewelry stored, you'll need to make sure it remains dry. Any moisture introduced into your jewelry box, soft-cloth pouch, or wherever you're storing it can cause jewelry to tarnish — and can inhibit the growth of mildew and mold.
Before you put jewelry away, you'll want to inspect it for moisture. Check around hard-to-see prongs and ring settings to ensure no moisture remains, and inspect any other cracks or crevices that may collect water or moisture. Once you've confirmed that it's dry, store jewelry in a cool, dry spot.
Invest In A Care Plan
You likely spend money insuring your favorite irreplaceable pieces, and you've learned how to take care of jewelry, keeping your rings, necklaces, and earrings shiny and clean. So why not go the extra step by investing in a care plan that ensures a jeweler will also help protect your sentimental treasures?
Upon purchase of a piece, many jewelry stores offer extended care plans covering maintenance, cleaning, and any repairs. Plans typically require you to bring in jewelry on a regular basis for inspection and preventive maintenance. Not only will a jewelry care plan help you keep your items in top-notch condition, but a jeweler has the tools to care for delicate gemstones, intricate metalwork, and clasps — and they can mitigate any issues that may arise.
Know When To See A Pro
Keeping up with routine jewelry maintenance is essential for lasting pieces, but sometimes you need to call the experts. A professional jeweler has the tools and know-how to fix broken or bent prongs, tighten loose diamonds, resize a piece, or repair and restore earrings or a ring to their original beauty. Attempting to go the DIY route with your jewelry can result in further damage.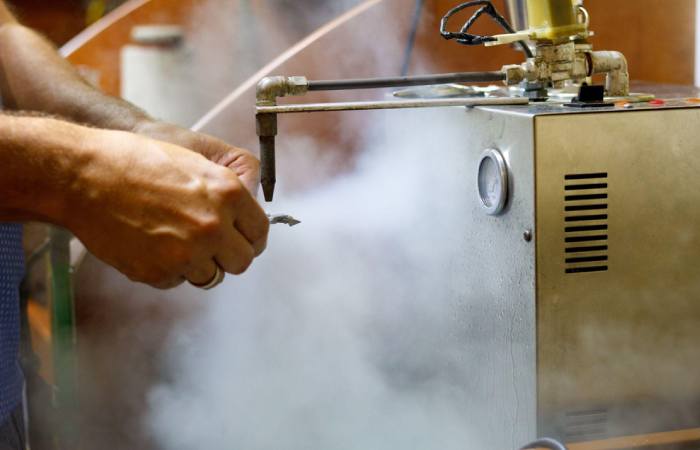 It takes an investment of time and effort to care for your jewelry. But with a little preventive maintenance, some common sense jewelry care instructions, and occasional jeweler's expertise, you can enjoy the beauty and elegance of all those jewelry pieces for generations. And if that macaroni necklace doesn't hold up, just have your child make you another masterpiece!