Electric Hair Brush
The electric hair brush is a much simpler and more practical tool than hair straighteners, and now the possibility of having perfect hair in your day-to-day is in your hands.
Achieving the desired volume contouring or straightening each day requires a polished, easy-to-do technique. Not only can it be the work of the hair straightener that we all know, but the most cutting-edge electric hair brushes on the market can also facilitate this task.
If you want to make your hair straight, but you are tired of going the iron or having hair with a tendency to frizz, I highly recommend that you read the following information.
An electric hair brush is handy since it allows us to detangle, comb and straighten our hair comfortably. It has the same shape as a conventional brush but has a temperature selector that allows you to work on thick, curly, and thick hair.
It offers you volume, movement, and even soft waves in some cases.
Also Read: What is Faiza Beauty Cream? – Uses, Benefits, and More
Advantages of using an electric hair brush
Being a multifunctional tool that allows you to detangle, comb and straighten your hair simultaneously, it is a great time saver.
They are easy to use, and you can do it yourself without the help of third parties.
They are small and practical, so you can take them with you wherever you want and go over your hair to make it look perfect.
Better prevent frizz. They work with more hair at the same time and reach the roots better.
They make it easy for you to adjust the temperature according to your hair type and, in this way, avoid damage to the hair fibers.
Choose the best electric hair brush according to your needs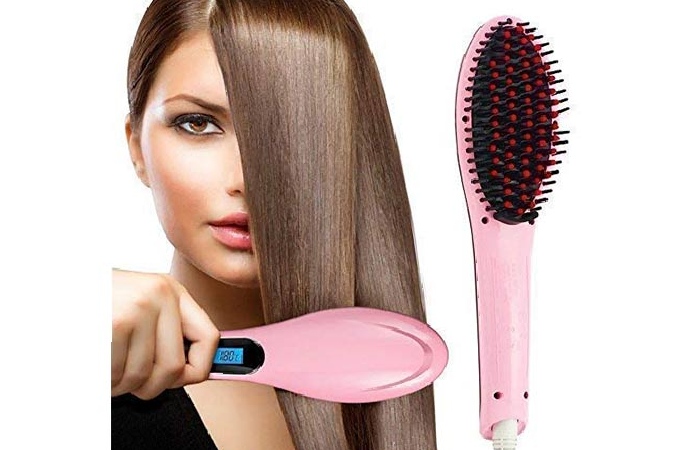 To consider:
The temperature
Choose the brush that allows you to regulate the temperature to your own needs, moving it between 150 and 230 ºC
Several bristles
The more bristles the brush has, the smoother you will get.
The minimum recommended quantity is 40.
Bristle material
Best silicone, ceramic, or tourmaline.
These three materials are responsible for straightening the hair without exposing it to the damage of high temperatures.
Ionic technology
This is essential for the straightening to be long-lasting and avoid frizz.
Quick heating
To save time, the idea is that the brush reaches the indicated temperature between 30 and 60 seconds.
What else can you do to avoid frizzy hair?
Here are some tips to keep in mind to prevent your hair from frizzing and making it look healthy and beautiful.
Moisturize your hair with a moisturizing mask once a week and daily bet on a good hair serum. -If your hair is oily, alternate an anti-grease shampoo with another that is frequently use.
Hot water generates steam, and this makes the hair more frizzy. Wash your hair with warm water.
Use specific hair product ranges to avoid frizz. Avoid products with alcohol or silicones.
When you towel-dry your hair, don't rub it too much.
If you use a silk pillowcase to sleep, you will avoid frizz and hair breakage.
Conclusion
The electric hair brush is very practical in your day to day.
It will be your great ally when it comes to your daily beauty routine as it is practical and fast and will leave your hair divine. Easy to use and straightforward.
In addition to straightening, it will protect your hair against the extreme heat of the straighteners.
While you brush your hair regularly, the results of a hair styled like a hairdresser will always make you look perfect. Its results are outstanding.
Also Read: How to style the prettiest long wavy hair